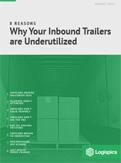 DO YOU TRUST YOUR DATA?
8 Reasons Your Inbound Trailers Are Underutilized
According to the Bureau of Transportation Statistics, there's more than $7.7 trillion wrapped up in transportation economics every year. Within that, there's a healthy sum dedicated to shipping costs. Imagine how much could be cut if trailers were more efficiently utilized.
Right now, inbound trailers aren't being utilized to their full potential. Everyday, "full" truckloads are traveling across the country, carrying far below their capacity. Lost space means increased fuel surcharges, lost driver time and, ultimately, lost profit for shippers.
Logispics understands the costs of underutilization.
We've identified eight reasons why your inbound trailers are underutilized. Among the causes:
Suppliers provide inaccurate data

Bad 3PL routing decisions

Last minute order changes
Sign up for our free report and find out the biggest reasons why trailers are inefficiently used, and learn how to avoid them.